Source: Easterseals
Caregiving is in Easterseals' DNA — it's at the heart of everything we do. This is especially true in our services and supports for military veterans and their families.
We strive to ensure military caregivers can access what they need to take on the enormous responsibility of caregiving—often, while still needing to work, navigate family life and take care of themselves. We embrace and support military caregivers, particularly as they transition into this new experience, life-long trajectory and unfamiliar — yet vital role — within their families and communities.
Our national network supports military caregivers across the lifespan. From training to respite services, Easterseals makes a profound, positive and life-changing difference in people's lives every day.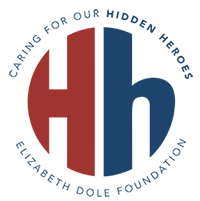 With a long history of service to the veteran community dating back to World War II, Easterseals is a proud Hidden Heroes Elizabeth Dole Foundation partner and offers a wide variety of supports for military caregivers and their families through respite care, inclusive childcare, employment and career services, transportation, behavioral/physical health services and advocacy at the federal and local levels. Services include:
Free Military Caregiving Webinars: Check out our bi-monthly, on-demand educational series for all military caregivers, providing tips and tools on topics including depression, childcare, intimacy, hearing loss, caregiver self-care and home safety. Select webinars are offered in Spanish. Easterseals developed this series in partnership with The Elizabeth Dole Foundation and others in the caregiving space. Sign up for our latest webinar today and review past webinars.
Military Caregiver Training: Through a contract with the Department of Veteran Affairs (VA), Easterseals administers an in-person, online and self-study workbook for post 9/11 military caregivers in collaboration with Atlas Research, Family Caregiver Alliance, National Alliance for Caregiving and National Alliance for Hispanic Health. More than 35,000 caregivers have benefitted to date. Learn more about the VA Caregiver Support program.
Center-based Adult Day Services or in-home services: These are for caregivers of older veterans with physical and/or cognitive concerns. Learn more.
Respite care: We offer a variety of respite options for military families. Examples include those families who have members with special needs through local partnerships with Childcare Aware of America as part of the US Navy and US Air Force Exceptional Family Member Program. Easterseals also partners with ARCH National Respite to co-chair of the Elizabeth Dole Foundation's Respite Impact Council. We also partner with the University of Maryland's Legacy Corps program that provides in-home respite for service members/veterans and their families at locations across the U.S.
Community OneSource Call Center: Easterseals manages a dedicated toll-free number and email where military caregivers can learn about Easterseals local resources and programs. Staff also can connect caregivers to our public and private partner organizations most suited to their needs and follows-up to ensure caregivers get what they need. Call 866-423-4981 or email us at militarycaregiver@easterseals.com.
Watch for our military caregiver tobacco cessation tool kit coming soon! In the meantime, we've partnered with the CVS Health Foundation and the American Lung Association to offer these resources that fit your abilities and goals.